Deviceless Remote Patient Monitoring® Accessible to Any Patient

CareSignal Deviceless RPM™ uses familiar SMS text messages and IVR calls

Messages, written at or below 6th grade reading level, meet patients where they are, and with the technology they already own.

Optional Free to End User (FTEU) features allow patients to use CareSignal even if they have a phone with limited minutes or texts.

Automatic personalization features within each program deliver a customized, rewarding patient experience.

New in 2021, CareSignal supports Deviceless Remote Therapeutic Monitoring™ (also known as Deviceless Remote Therapeutic Management™ or Deviceless RTM™)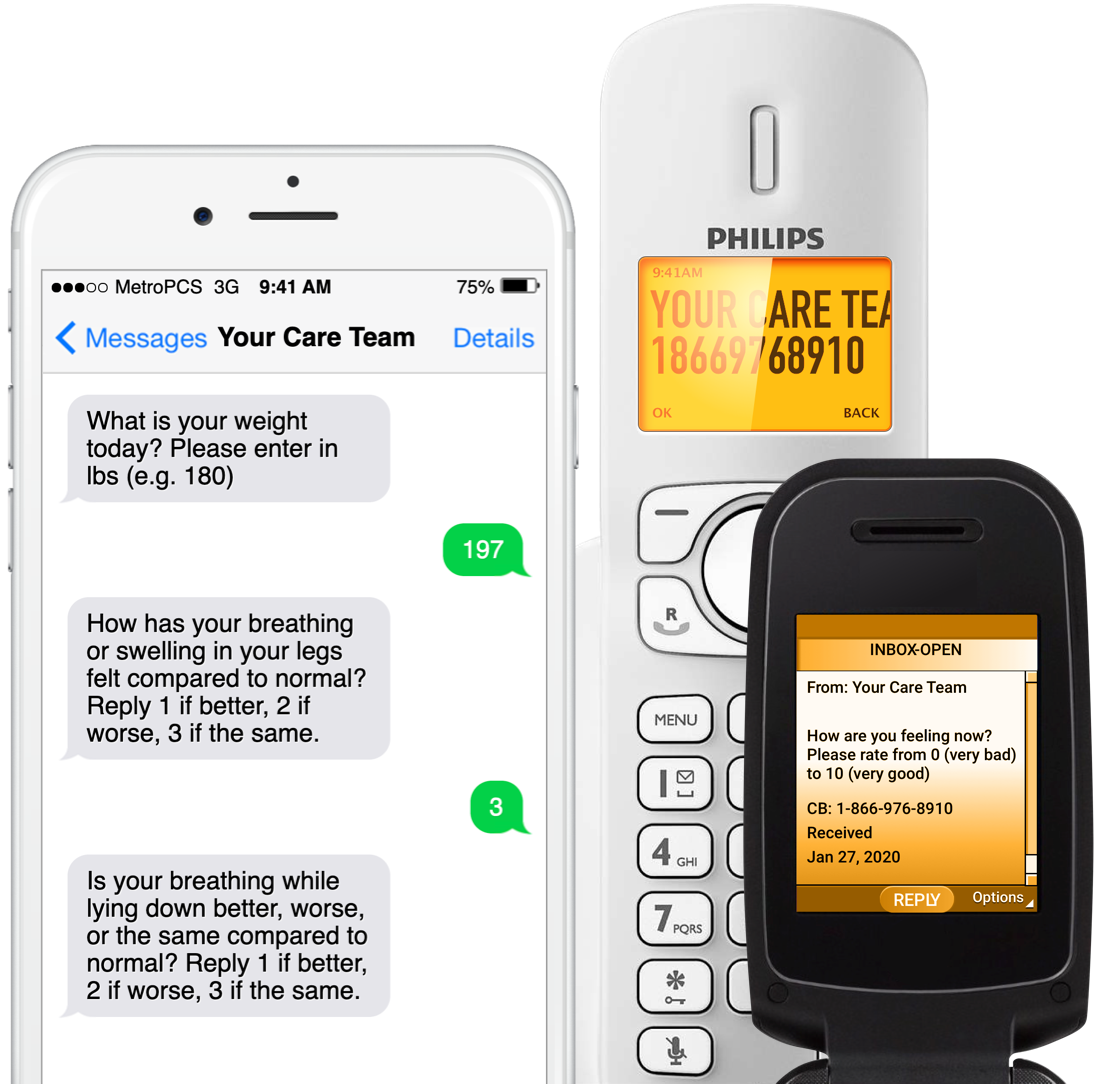 Flexible Portfolio
For Any Strategy
An Automated and Personalized Patient Experience

Evidence-Based Check-Ins
Could you tell us your blood sugar this morning please? (ex: 100)
Gamified Feedback
Your average blood sugar from the past two weeks is 215. This is higher than your average from the previous two weeks.
Educational Nudges
You have been sending us your after-meal values more than usual, please try to measure your blood sugar before eating!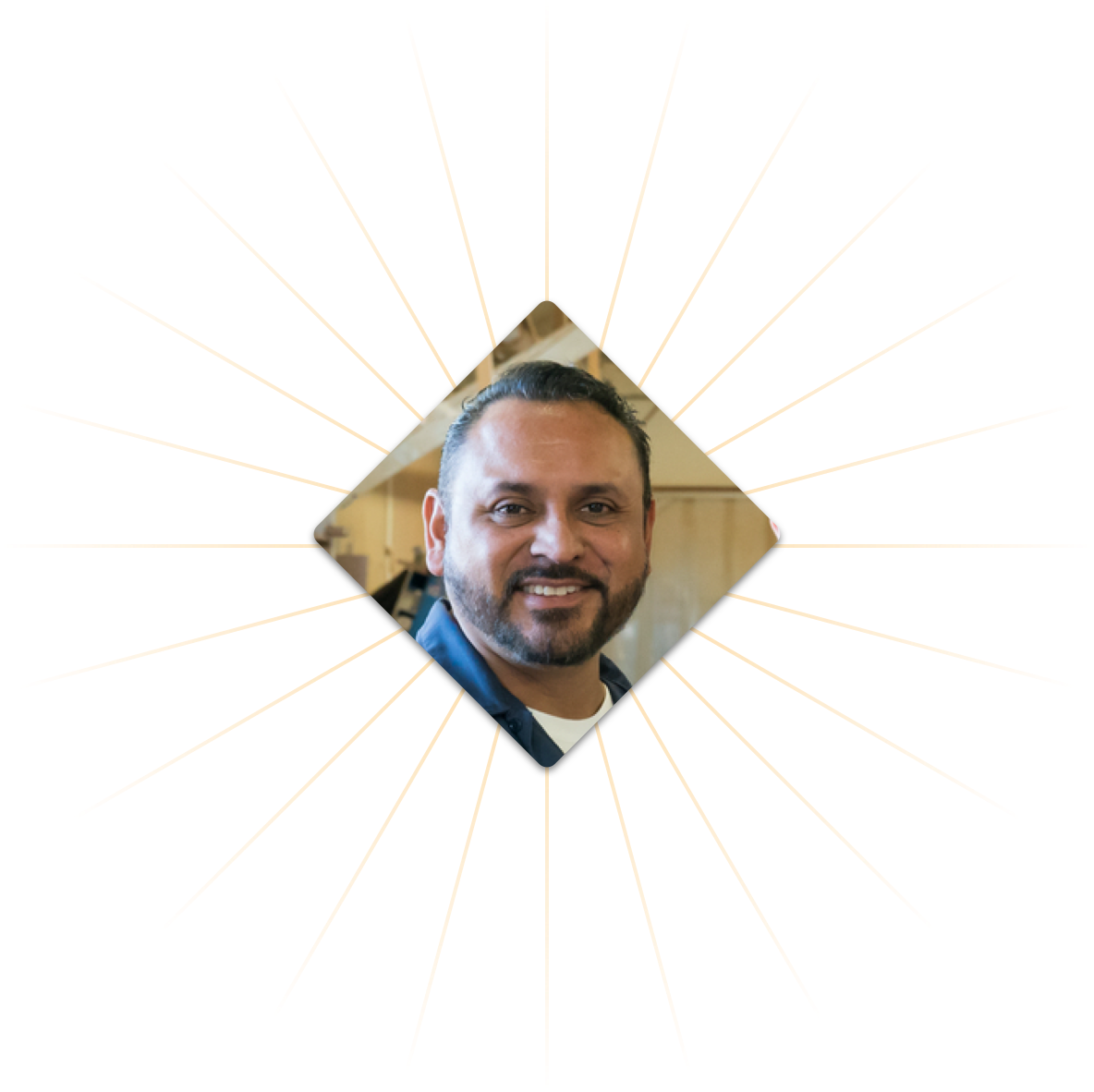 Smart Schedule Frequency
We are going to ask about your blood sugar more often for a while. You can expect messages [at the following intervals].
Additional Modules
Have you been to an ophtalmologist to get your eyes checked this year?
Real-Time Data

Don't let patients fall through the cracks.
Antonio's Status Without CareSignal

Antonio's Status With CareSignal

CareSignal Amplifies Your Existing Digital Strategy

You already know where to find your rising-risk population. With real-time data, you can bridge the gap: align top-of-license resources with just the patients who need care right now.
Retrospective Stratification
Real-Time Risk Monitoring
Timely Intervention

CareSignal aligns and standardizes the cost of resources with the real-time acuity of the patient.
CareSignal is More Than Just Technology

Software alone isn't enough. CareSignal offers robust, out-of-the box services and support–all customizable to your organizations' standards of care so you can realize value with CareSignal quickly.
Turn-Key Implementation
A dedicated CareSignal project manager will guide your team through launch and beyond by creating Standard Operating Procedures from the best practices in evidence-based research.
Enrollment at Scale
Scale rapidly without distracting your team. CareSignal can carry the burden of educating, consenting, and enrolling patients on your behalf.
Consultative Support
Adapt to evolving strategies with a dedicated CareSignal Account Manager positioned to help you find solutions to diverse challenges, support organizational adoption, and maintain patient engagement.
Rapid Re-Engagement
Engagement specialists can re-engage patients, adapting our programs to their needs.
Care Coordination
Our team enables top-of-license care by providing sub-clinical follow-up on the partner's behalf, only escalating to your team when needed.
Robust Reporting
Our platform produces forward-looking indicators, even before a patient gives lab values. Then we work with your team to use claims data to validate the patient reported outcomes and we package the report up in a way that makes you and your team proud to present your outcomes to your organization.
What are your core 2021 initiatives?
We'll share key learnings from our 10 publications and teach you methods for achieving sustained patient engagement. You'll learn why high-risk care management is no longer enough to support your population health initiatives.
If you're trying to...
Support Population Health Initiatives
Reduce ED Utilizations
Sustain Patient Engagement