In 2020, Epharmix rebranded to CareSignal. References to Epharmix and Epx are outdated.
New research in Nature Scientific Reports finds that automated messaging intervention, EpxDialysis, improved patient adherence to dialysis treatment by 75%
July 5, 2017 at 8:48 AM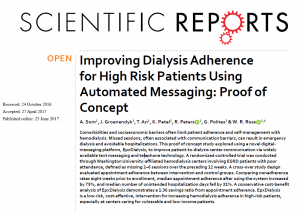 In a recently published study in Nature Scientific Reports, researchers from Washington University in St. Louis School of Medicine and Saint Louis University School of Medicine found that the use of an automated messaging platform helped improve patient adherence to dialysis treatment by 75% compared to control.

Over an eight-week randomized controlled trial, the research team provided end-stage renal disease (ESRD) patients with an automated messaging platform, EpxDialysis, which used widely available text messaging and voice calls to address communication barriers between patients and dialysis centers.

Patients with previously poor attendance (defined as missing 2-6 sessions over the preceding 12 weeks) at two clinics in the City of St. Louis, Missouri received automatic notifications of upcoming dialysis sessions, encouraging messages emphasizing the partnership between the patient and dialysis center, and a support line for urgent issues such as rescheduling their session.
The study found that the median number of missed sessions was 1.0 for all patients receiving the messaging intervention and 4.0 for those receiving standard of care without the messaging intervention, representing a 75% improvement in attendance over the control group. In addition, researchers found that the median number of unintended hospitalization days fell by 31% among patients receiving the messaging intervention. The study team conducted a cost-benefit analysis of EpxDialysis, finding that it demonstrated a 1:36 savings ratio from appointment adherence.

Missed sessions, often associated with communication barriers, can result in emergency dialysis and avoidable hospitalizations. Through interviews with ESRD patients on dialysis, researchers determined that the most common reasons for missing dialysis were related to symptoms of illness, and lack of childcare and transportation. While many centers offered resources such as social workers and transportation vouchers, patients were often not aware of them. In addition, these patients rarely notified staff of the upcoming absence, preventing patients from promptly rescheduling their session to the following day and leading to waste of medical supplies prepared for their treatment. Absences were often unplanned with extenuating circumstances, and the normal flyers with the phone numbers to call for help often could not be found, the researchers said.

"Proactive appointment reminders along with messages of encouragement and guidance helped patients address concerning symptoms (such as nausea, vomiting or diarrhea) that they may be experiencing prior to treatment, keeping patients closely connected to their dialysis center during critical times, particularly in the days just before an appointment," said Avik Som, lead author and researcher at Washington University School of Medicine.

"For patients unable to attend treatment, a hotline call system built into the platform provided a phone number allowing a direct point of contact and routed the call to the appropriate dialysis center. This addressed a commonly heard challenge from patient interviews, that absences were often unplanned with extenuating circumstances, and the normal flyers with the phone numbers to call for help often could not be found," he said.
In this crossover study design, patients in group A received the EpxDialysis intervention for 8 weeks, followed by no intervention for 8 weeks. Patients in group B initially received no intervention for 8 weeks, followed by the EpxDialysis messages for 8 weeks. Standard of care was maintained for both study groups.

The proof of concept study evaluated the feasibility of using the automated messaging system, EpxDialysis, among dialysis patients and measuring the effect of the intervention on patient attendance to treatment sessions, patient hospitalization, and cost and benefits associated with its use.

The researchers conclude that although it is a proof of concept study, EpxDialysis is a low-risk, cost-effective, intervention for increasing hemodialysis adherence in high-risk patients, especially at centers caring for vulnerable and low-income patients.
__________________________________
Experience an interactive demo of Epharmix now
To learn more, contact jason [at] epharmix.com