In 2020, Epharmix rebranded to CareSignal. References to Epharmix and Epx are outdated.
Epharmix's behavioral health tools help partners engage vulnerable populations and improve outcomes
March 22, 2018 at 8:54 PM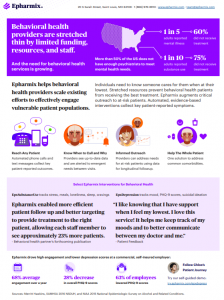 Helping patients with behavioral health issues manage their condition successfully is a top priority for most providers.
While the term behavioral health refers to both mental health conditions (e.g., depression) and substance use disorders (e.g., opioid abuse) behavioral health patients are united in their need to be managed with a long-term approach. Patients need frequent and caring support from their provider over a long period of time in order to prevent relapse and to lower depression scores. However, stretched resources are preventing patients from receiving the best treatment. Behavioral health providers are stretched thin by limited funding, resources, and staff while the need for behavioral health services is growing.
Epharmix is helping behavioral health providers scale their existing efforts to engage vulnerable patients with two tools, EpxDepression and EpxSubstanceUse. The two automated SMS text message and phone call-based systems are designed to help patients and providers stay connected outside of the doctor's office and help patients feel cared for no matter where they are. Automated messages ask patients evidence-based questions about their condition enabling patients to report symptoms and biometrics such as mood and loneliness. Patient responses are returned to the provider where they are triaged to identify which patients are doing ok and which need urgent outreach. Epharmix collects real-time patient data that directly informs provider care.
Mental Health:
EpxDepression proactively administers the evidence-based depression screener, the PHQ-9, enabling the patient to respond in a manner that is discrete and convenient. Patient depression scores are reported directly to providers, enabling timely outreach targeted at the patients who report high depression scores or suicidal ideation. Recent client results found an average 28% reduction in PHQ-9 scores in a population that was struggling with depression.Read more about our clients' success here: http://content.epharmix.com/Epharmix-Behavioral-Health.pdf
Substance Use:
EpxSubstanceUse automatically tracks cravings, stress, and other behaviors related to substance use. Providers are alerted to patients reporting relapse or high cravings, enabling them to identify at-risk patients and intervene in a timely manner.
Demo:
Try our self-guided demo to see how patients and providers use Epharmix to lower depression scores: http://try.epharmix.com/epxdepress

To learn more about how Epharmix enables clinical teams to help patients manage their behavioral health conditions successfully, contact us at team (at) epharmix.com.