American Telemedicine Association: Improving Patient Outcomes and Cost Savings at Esse Health by Leveraging Deviceless Remote Monitoring Technology
July 28, 2020 at 5:43 PM
Healthcare executives and innovators Erin Stamm, MBA, RHIA, NCP, and Carla Moore Beckerle DNP, APRN, ANP-BC join CareSignal Director of Clinical Operations Robert Peters to discuss the process, and successes, of scaling Deviceless Remote Patient Monitoring to Medicare Advantage members with chronic conditions during the June 2020 ATA Conference.
To read the published abstract, visit this link and scroll to Abstract 13.
Esse Health is a national leader, with some of the top clinical and financial outcomes.
And Esse faces the same challenges as all Medicare Advantage plans: rapidly growing member populations, high prevalence of chronic conditions, and lots of unnecessary utilization. Esse recognized that each prevented unnecessary hospitalization saves $3,000 to $5,000. However, before CareSignal, the ratio of Care Manager to patients was 100:1.
Using population health to stratify a population is a great first step, but just knowing the higher-risk members does not enable cost-effective preventative care. So Esse thoughtfully identified several key measures to quantify success.
Metrics including caseload, care manager satisfaction, patient engagement and satisfaction, and (crucially) hospitalization rate and the Per Member Per Day (PMPD) spend were all captured or calculated.
The technology had to be extremely accessible, including for elderly and non-tech-savvy members.
With an average age of around 70 years, most patients prefer interactive phone calls, though many prefer text messages as well. And because of the enrollment process, Esse did not have to lift a finger when it came to implementing and scaling CareSignal to thousands of patients in a matter of weeks. CareSignal captures clinically relevant and actionable data, and Esse deployed an innovative centralized model so that the Care Manager can see and act on alerts.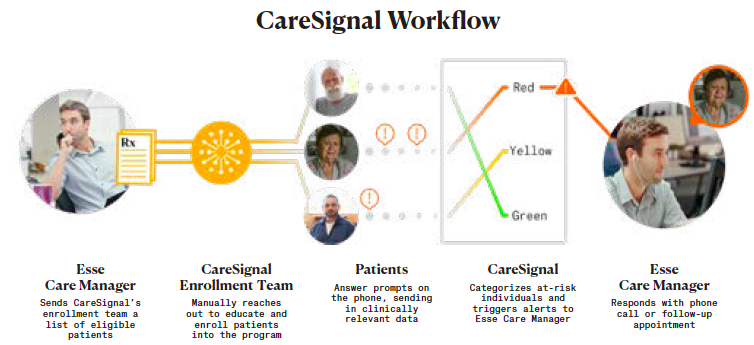 Workflows had to scale, and they did; Esse expanded the Care Manager to patient ratio from 100:1 to 1,500:1, with over 170,000 automated touches in under a year.
And these interactions generated about 4,100 alerts, each of which represents an opportunity to provide better experience, better outcomes, and meaningful savings.
Improved outcomes include better blood pressure control, lower hemoglobin A1c, and dramatic reductions in the PMPD cost, "hitting it out of the park" for COPD and CHF utilization reduction.
Emergency department utilization for CHF and COPD improved anywhere from 31% to 46%, yielding a claims-based ROI of 14x, and $257 PMPM savings.
And fortunately, patients love this technology, too.
Patients have even shared names of their friends who they wanted Esse to enroll, saying that they felt like their doctor was always right with them, even when they lived far away.
The takeaways:
15x increase in Care Manager capacity
More than 30-40% reduction in ED utilization
Statistically significant clinical and financial outcomes, yielding 14x ROI in under a year
Avoidable hospitalizations reduced, patient experience improved; patients had no issues using the CareSignal technology
And recommendations for other organizations using CareSignal:
Engage stakeholders early, and shoot aggressively for outcomes within the first 8-10 months
Quantify clinical and financial outcomes; clinical data are often available first, and can be a good leading indicator
Leverage CareSignal's enrollment capability – it removes the burden from Care Managers, and reaches scale faster (and no efficient organizations are likely to have extra staff sitting around!)