CareSignal and Americares Bring New COVID-19 Text Messaging Program to the Uninsured
April 2, 2020 at 8:21 AM
St. Louis — April 2, 2020 — CareSignal is partnering with Americares, the health-focused relief and development organization, to make trustworthy COVID-19 information easily accessible to patients of free and charitable clinics nationwide.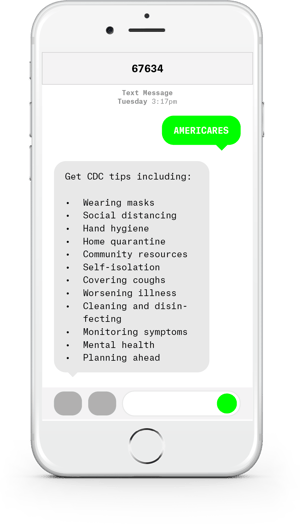 Americares is inviting its 1,000 partner clinics nationwide, including free clinics and community health centers, to enroll in CareSignal's COVID Companion text messaging program. The free service shares information about local public health resources and recommendations from the U.S. Centers for Disease Control and Prevention. Americares is sharing the company's latest program with partner clinics in hopes it will answer some of the most frequently asked COVID-19 questions, allowing staff at safety net clinics to focus on clinical care.
"With so many myths and misconceptions circulating about COVID-19, it's critical that patients get information from a credible source," said Americares Chief Medical Officer Dr. Julie Varughese. "It is especially important for the elderly and patients with chronic disease and underlying health conditions most at risk for serious complications."
Patients who sign up for the free service receive daily tips about how they can protect themselves and their families from the virus. Users receive links to:
Household preparation checklists;
Tips for cleaning and disinfecting;
Tips for preventing the spread of the virus;
Tips for pregnant women and families;
And tips to support mental health and notes of encouragement.
"The most recent research and forecast data for COVID-19 spread trajectory suggest that infections may not peak for three to four months for many parts of the United States," said Blake Marggraff, CEO and founder of CareSignal. "During this period, it is as important to support the organizations providing care for at-risk patient populations as it is to support the patients and community members themselves. The COVID Companion program provides patient engagement, education and resources to amplify the care that clinics and health centers can provide."
Patient education is a key aspect of Americares response to the COVID-19 pandemic. The health-focused relief and development organization is also providing personal protective equipment and training for health workers on the frontlines of the outbreak. To date, Americares has shipped 6 tons of protective supplies for the COVID-19 pandemic, supporting partner clinics and nonprofit organizations serving low-income and uninsured patients in five states: California, Connecticut, New York, Texas and Washington. Americares is also continuing to provide essential primary care services in Colombia, Connecticut and El Salvador.
In the U.S., Americares is the largest nonprofit provider of medical aid to organizations serving low-income and uninsured patients. Americares provides medicine, supplies, education and training to a network of more than 1,000 partner clinics nationwide. Americares U.S. Program helps partner clinics increase capacity, provide comprehensive care, improve health outcomes and reduce costs for patients.
ABOUT AMERICARES:
Americares is a health-focused relief and development organization that saves lives and improves health for people affected by poverty or disaster. Each year, Americares reaches more than 90 countries, including the United States, with life-changing health programs, medicine and medical supplies. Americares is the world's leading nonprofit provider of donated medicine and medical supplies. For more information, visit americares.org

ABOUT CARESIGNAL:
CareSignal, previously Epharmix, is a scalable remote patient monitoring platform that improves payer and provider performance in value-based care by engaging and identifying rising-risk patients. Care teams receive real-time alerts enabling real-time prioritization and outreach, and patients respond to evidence-based questions via text messages or phone calls. CareSignal amplifies care teams, improving clinical outcomes and delivering financial returns for over two dozen conditions such as CHF, COPD, diabetes, depression, and more. For more information, visit caresignal.health. To get COVID Companion for your organization, visit covidcompanion.com
MEDIA CONTACTS:
Donna Porstner/Americares:(203) 658-9579
dporstner@americares.org
Jason Roche/CareSignal: (314) 272-2586
jason.roche@caresignal.health
###