Esse Health's New COVID-19 Text Messaging Program Offers Prevention Tips and Resources to Members
April 6, 2020 at 5:07 PM
St. Louis — April 6, 2020 — Esse Health has partnered with CareSignal, a St. Louis-based remote patient monitoring company, to quickly provide accurate COVID-19 information to the Esse Health community using Esse COVID Companion.

Esse COVID Companion is a free text messaging service that shares information about local public health resources and recommendations from the U.S. Centers for Disease Control and Prevention. The program has been well-received with almost 5,000 unique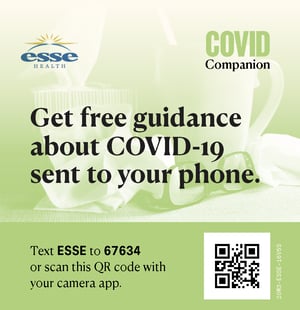 members signing up to receive daily tips in the first two weeks.
To subscribe, any patient or community member can text "ESSE" to 67634. No download, login, internet or computer is required. Esse COVID Companion will ask basic questions to link users with COVID-19 information specific to their needs. Users will receive Centers for Disease Control-based prevention tips and recommendations on what to do if they have COVID-19 symptoms, as well as ways to connect with public health resources in their local area. Users over the age of 60 or with chronic disease are directed to a Centers for Disease Control page for high-risk populations.
"Esse COVID Companion can free up vital resources by providing COVID-19 education and support to our patients with this automated program," said Mike Castellano, Chief Executive Officer, Esse Health. "It provides information directly that patients would normally try to get by calling our offices, freeing up phones. Thousands of patients are already using the program."
The program is an extension of Esse's broader partnership with CareSignal to remotely monitor member symptoms and enable proactive care management to improve health outcomes for members with COPD, heart failure and other chronic conditions.
"In this time of crisis, we are challenged to imagine the unimaginable and implement all capabilities to communicate with patients," said Mike Castellano, Chief Executive Officer, Esse Health. "CareSignal is a tool used by Esse Health in our daily practice to support patients with chronic conditions." "Now we can imagine how to extend this capability for the benefit of our society to help reduce the fear that comes from uncertainty."
To learn more, visit https://www.caresignal.health/covid/esse-health

ABOUT ESSE HEALTH:
Esse Health is a St. Louis-based, independent physician group that strives to improve the overall well-being of its patients through patient education, lifestyle modification and prevention. Esse Health's adult and pediatric primary care offices have been awarded Patient-Centered Medical Home (PCMH) 2014 Level 3 recognition by the National Committee on Quality Assurance. The U.S. Department of Health and Human Services' Million Hearts Initiative recognized Esse Health as a Hypertension Control Champion for its success in helping patients control their high blood pressure. With 45 locations throughout the St. Louis and Metro East area, Esse Health's services include asthma, allergy and immunology, family medicine, gastroenterology, internal medicine, nutrition, orthopedics, pediatrics, radiology and urology. Esse Health is a recognized leader in using technology in health care and physician accountability for both quality and cost-of-care. For more information on Esse Health, visit www.essehealth.com.