How to Close Gaps in Care and Gather Quality Data During and After the Pandemic
February 26, 2021 at 12:29 PM
As providers and payers emerge from the pandemic, the urgency to engage patients and secure appointments for annual visits and screenings has never been greater. For providers and payers in value-based care arrangements, documenting Hierarchical Condition Categories (HCC) and HEDIS quality data is crucial as significant revenue depends on whether providers meet these quality measures and document patient risk factors. There's opportunity for providers, especially during annual wellness visits, to document and reflect patient health risk information — which directly affects up- and downside risk within value-based care contracts.

The pandemic, however, has delayed colorectal, breast, and cervical cancer screening and prevented providers from adequately documenting patient risk factors.1,2 Forward-thinking providers can implement engagement strategies to help patients get the proactive care they need for chronic conditions as well as important screenings.
Sources:
1. https://www.breastcancer.org/research-news/covid-19-delayed-screening-in-us
2. https://www.bcbs.com/the-health-of-america/reports/rise-chronic-conditions-putting-more-americans-risk-colorectal-cancer#screening
Current Challenges in Gathering Quality Data:
Ineffective Patient Engagement Strategies and Incomplete Data
The pandemic has created a twofold challenge for providers when it comes to gathering quality measures and risk profiles: First, many providers have come to depend on ineffective communication and engagement methods, either in the form of labor-intensive manual outreach programs or self-reported patient information through infrequently used, passive patient portals.
The challenge here stems from the fact that outbound phone calls and patient portals are fundamentally imprecise engagement strategies that leave too much up to chance. Who are the most critical patients to call? Will they pick up the phone? Will they log into their portals? Do they remember their credentials, and can they navigate the site? All of these unknown factors chip away at the completeness and caliber of quality and risk data.
The second challenge has to do with HCCs, in particular. HCC information can only be gathered in person, usually during annual wellness visits, and because many patients have opted not to visit their primary care providers during the pandemic for non-emergency reasons, providers find themselves unable to sufficiently or accurately document patient health risk information. For this reason, many providers have had poor metrics and have seen reduced revenue as a result. As value-based care increases in popularity, however, risk-determining data will only become more valuable.
3 Strategies for Closing Gaps in Care During & After the Pandemic
Engage patients remotely with familiar technology
Providers can reliably connect with patients and efficiently gather quality data through phone calls or text messages. Patients are able to use technology they already know — their own phones. SMS texting technology is widespread and familiar across all demographics: In fact, Gartner estimates that recipients open 98% of the text messages they receive. Automated patient outreach that requires no new technology eliminates the friction points and barriers to engagement that are inherent to staff-initiated outreach and confusing portals, allowing providers to engage large populations consistently.
Furthermore, the content of these automated texts and phone calls should align with value-based care quality measures. Providers should tailor their messaging to drive patients toward a specific goal that can inform their risk score, and therefore reimbursable income, such as scheduling an appointment for essential screenings, like colonoscopies and mammograms, or annual wellness visits.
Automate and standardize patient outreach
Due to the overwhelming effort of collecting risk and quality data, many providers find themselves close to the reporting submission period with little data to show for it, resulting in frantic scrambles to complete the task. Stories of providers needing to hire upwards of 20 new staff members to make tens of thousands of patient phone calls are not uncommon. But, collecting this information doesn't have to be such a costly, uncoordinated scramble.
With automated and standardized patient outreach, providers can skip the frantic push and instead reach out early and frequently throughout the year to gather patient-reported quality information. At the same time, an automated outreach strategy can help maintain strong patient-provider relationships and save staff time by reducing the need for phone-based outreach.
Case Study: Increasing Colonoscopy Screening Completions by 9% Among the Total Population

A multi-state health system sought to increase colonoscopy screenings. It used CareSignal's Deviceless Remote Patient Monitoring® platform to send 3,521 patients automated text messages asking whether they had completed a colonoscopy. Of that population, 980 responded to the initial message and 648, or 66%, indicated that they had not had the screening. Following that, 307 patients completed the screening within three months, which generated a conversion rate of nearly 9% of the total population, or 31% of those who responded, and almost 50% of those who indicated needing a colonoscopy. The financial return on these messages was significant: The 307 completed colonoscopies appeared to generate about $93,0000 in revenue for the health system.
Now, consider how much time, effort, and money it would have taken to engage and influence 3,521 patients through manual outbound phone calls. The scalability and accessibility of structured automated outreach via text messages allow providers to expand their screening efforts to multiple engagement campaigns and generate far greater ROI.
Learn more: "Patient Engagement with Interactive Text Message System Improves Successful Colonoscopy Rates in an Outpatient Endoscopy Center." CareSignal increased successful colonoscopies by 38% over standard of care among a VA population. https://www.karger.com/Article/Abstract/511767
Make the process for closing gaps in care easy for patients



The most effective patient engagement initiatives not only encourage patients to be proactive about closing gaps in care, but they also facilitate scheduling visits for screenings, wellness checks, and immunizations and follow-up to ensure completion. By creating a channel for bringing patients through the clinic door, providers can turn a requirement into a driver of predictable revenue by measurably improving quality measures and collecting more complete risk data throughout the year.
More than a simple reminder tool, CareSignal's Deviceless Remote Patient Monitoring™️ platform is a smart tool that allows providers to collect screening and immunization status and connect patients with the appropriate resources to help them complete these goals. If a patient has not had an annual wellness visit, they will receive a link via text to schedule one through the system. If the patient doesn't have a PCP, they can be connected to one via text or phone to keep them in-network.
Case Study: Increasing Adult Flu Vaccinations: 2 Million Messages in 1 Month
We recently helped a large healthcare system increase adult flu vaccinations without hiring additional staff or relying only on patients to schedule vaccinations through a scarcely used patient portal.
Initially, our platform sent out 1.1 million awareness messages over the span of just one week to see which patients had received their shots. Of the 30% who responded, 59.7% confirmed they had, and the 40.3% who had not were prompted to call their PCPs to schedule one. Subsequently, we sent out an additional 650,000 vaccine check messages over the next two weeks to follow up with those who needed to schedule their PCP visits. In all, we sent nearly 2 million automated text messages to patients in under a month, all of which made it easier for patients to close care gaps without the need for providers to dedicate valuable staff time to manual outreach.

Conclusion
With so much risk-based revenue tied to annual wellness visits and regular screenings in value-based care, providers can no longer rely on manual outreach or passive patient portals. It's time for providers to embrace scalable, simple technology to better engage patients, collect quality data, and facilitate closing gaps in care year-round. CareSignal offers a portfolio of condition-specific programs that is flexible and robust to meet the dynamic needs of providers and payers.
Close Gaps in Care and Collect Quality Data with 30+ Condition-Specific Programs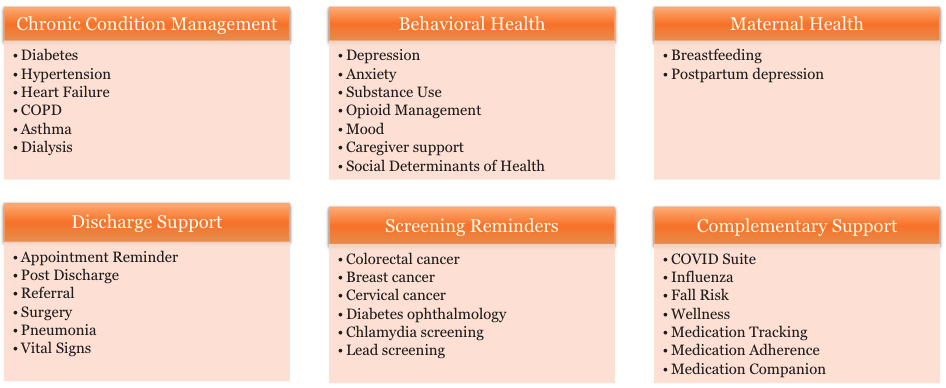 To get started, speak with a member of the sales team by scheduling time using this link: https://www.caresignal.health/meetings/ann-conrath