Mental Health Center of Denver and CareSignal Bring New COVID-19 Text Messaging Program to the Community
April 9, 2020 at 10:06 AM
Denver — April 9, 2020 — Mental Health Center of Denver has partnered with CareSignal, a remote patient monitoring company, to quickly provide accurate COVID-19 information to our community using COVID Companion.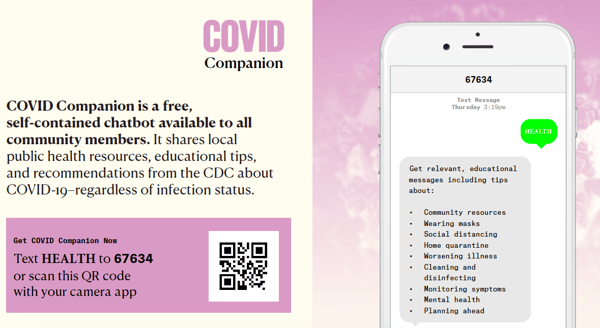 COVID Companion is a free text messaging service that shares information about local public health resources and recommendations from the U.S. Centers for Disease Control and Prevention. During this time of uncertainty, it is important for people to have access to accurate information on COVID-19 to help ease anxiety.
"COVID Companion is a tool anyone can use to easily get up-to-date information about COVID-19," said Wes Williams, CIO and VP at the Mental Health Center of Denver. "Using technology to help people stay connected is a hallmark of the Mental Health Center of Denver. We're proud to partner with CareSignal to bring this vital resource to our community."
To subscribe, any patient or community member can text "HEALTH" to 67634. No download, login, internet or computer is required. COVID Companion is available in English and Spanish and will ask basic questions to link members with COVID-19 information specific to their needs. Members will receive Centers for Disease Control-based prevention tips and recommendations on what to do if they have COVID-19 symptoms, as well as ways to connect with public health resources in their local area. Members over the age of 60 or with chronic disease are directed to the Centers for Disease Control information specifically for high-risk populations.
The program is an extension of Mental Health Center of Denver's broader partnership with CareSignal using text messaging to enable people to report depression and substance use symptoms and to deliver proactive care to improve behavioral health outcomes.
To learn more about COVID Companion, visit https://www.caresignal.health/covid-companion
ABOUT MENTAL HEALTH CENTER OF DENVER:
Last year, the Mental Health Center of Denver provided treatment, prevention, and crisis services to more than 20,000 individuals in Denver. As a private, not-for-profit community mental health center, the Mental Health Center of Denver is known nationally as a model for effective community behavioral healthcare. Working together with our community partners, we are committed to increasing access to care by delivering innovative and evidence-based services guided by the principles of well-being. For more information, visit www.mhcd.org.

ABOUT CARESIGNAL:
CareSignal is a scalable remote patient monitoring platform that improves payer and provider performance in value-based care by engaging and identifying rising-risk patients. Care teams receive real- time alerts enabling real-time prioritization and outreach, and patients respond to evidence-based questions via text messages or phone calls. CareSignal amplifies care teams, improving clinical outcomes and delivering financial returns for over two dozen conditions such as CHF, COPD, diabetes, depression, and more. For more information, visit caresignal.health. To get COVID Companion free for your organization, visit covidcompanion.com.