Pandemic Pivot: 5 Ways CareSignal Aligns With Revenue-Generating Telemedicine Codes
April 20, 2020 at 3:27 PM
Amid COVID-19, healthcare leaders face numerous challenges. Chief among them is how to care for non-COVID-19 patients. Organizations must pivot established in-person programs to remote care delivery models. They must invest in necessary telemedicine and communication tools to not only care for patients remotely, but also stay afloat financially.
To mitigate the spread of COVID-19 and prevent hospitals from becoming overwhelmed, the U.S. Department of Health and Human Services is providing financial relief for healthcare organizations. It includes $30 billion in direct aid and $200 million in funding for the COVID-19 Telehealth Program.
The Centers for Medicare and Medicaid (CMS) is also expanding telehealth services. Telehealth waivers offer financial relief and billing options for healthcare organizations to be reimbursed for remote care; they also enable providers to be compensated for the care they provide over the phone or via a patient portal. Finally, to drive patient adoption, CMS is allowing healthcare organizations to waive copays and insurance fees.
We've aggregated five telemedicine programs and the associated billing codes to help providers understand the scope and identify technology to increase code usage. But first, we'll examine how technology can help providers and patients embrace telehealth.
Benefitting Providers and Patients
For many healthcare organizations, this pandemic marks the first time they're rolling out new technology, processes, and protocols for telehealth services. But some patients — many of whom cancel their telehealth appointments or fail to show up at all — are struggling to adapt to new technological processes. As a result, providers miss the opportunity to provide critical care and generate valuable revenue.
To promote telehealth adoption, healthcare organizations need to cast a wider digital safety net. Expensive devices and audio/visual platforms have their place, but complicated tech solutions won't help patients transition into this new normal. Providers must add accessible, cost-effective tech tools to their arsenals that allow patients to self-manage conditions at home.
Consider, for example, how chronically ill patients are accustomed to frequent in-person visits. With such visits currently on hold, technology needs to fill the gap in care. To promote telemedicine adoption among this population, providers must equip patients with easy-to-navigate tools that allow them to raise their hands if they experience exacerbations. Then, providers can direct patients to the appropriate level of care.
Investing in cost-effective, remote patient monitoring extends care to thousands of patients, including the rising-risk patient population. Providers can care for three times the number of patients and facilitate more patients into care management telephonic visits, telehealth visits, and e-visits via patient portal communications. Doing so is critical during COVID-19, but the value extends beyond this short-term telehealth surge.

More accessible technology also allows organizations to extend care to patients in value-based care contracts. Technology that enables remote symptom monitoring and increased patient engagement ultimately leads to improved health outcomes. The need for and benefit of this technology won't vanish once COVID-19 recedes; it will position providers to succeed in value-based care by connecting them with high- and medium-risk patients.

Accessible self-monitoring technology gives patients a direct line to physicians. Healthcare organizations will be better able to improve care and increase opportunities to provide virtual services.
Improve Health Outcomes and Generate Revenue
To address adoption and adherence concerns, healthcare organizations are choosing CareSignal as a key program in their remote patient care and telemedicine strategy. With industry-leading engagement rates and accessible technology, CareSignal allows patients with chronic conditions to self-manage symptoms at home and alerts providers if they experience exacerbations.
Because CareSignal administers remote patient monitoring software through automated text messages or phone calls, CareSignal can triage thousands of patients in real time based on patient-reported health data. As a result, providers can increase the number of proactive telephonic medical interventions for chronically ill patients and the number of virtual services.

CareSignal has 27 programs available. On top of enabling patients to self-manage their chronic conditions, the programs can direct patients to the patient portal, telehealth visit, or telephone call from a provider. As these virtual interventions are now billable under new CMS waivers, better facilitation of services means increased revenue.
The chart below outlines virtual services, billing codes, and the CareSignal alerts that facilitate these billable interactions: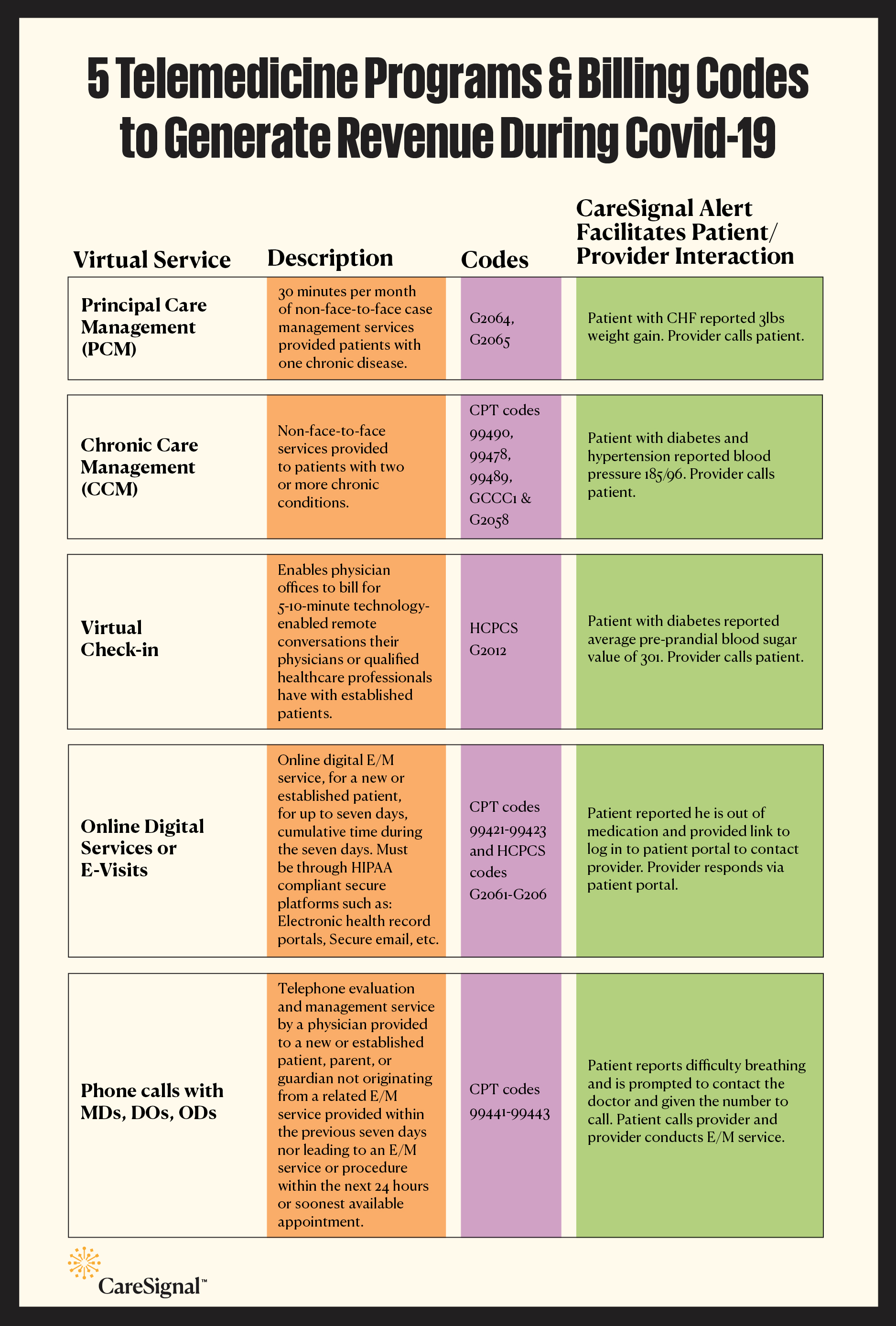 Get Started Today:
Get help applying to the FCC's $200 Million Telehealth Program to receive up to $1 Million for eligible services. Click here
References:
https://docs.fcc.gov/public/attachments/DA-20-394A1.pdf

https://www.hhs.gov/about/news/2020/04/10/hhs-to-begin-immediate-delivery-of-initial-30-billion-of-cares-act-provider-relief-funding.html
https://www.cms.gov/newsroom/fact-sheets/medicare-telemedicine-health-care-provider-fact-sheet
https://www.cms.gov/About-CMS/Agency-Information/Emergency/EPRO/Current-Emergencies/Current-Emergencies-page