TCARE and CareSignal Bring New COVID-19 Text Messaging Programs to 20 Million Members Across 22 States
April 22, 2020 at 7:44 AM
St. Louis — April 22, 2020 — TCARE and CareSignal are partnering to bring COVID-19 programs to communities, patients, andfrontline healthcare staff across the country and are already implementing with payers, state public health departments, and area agencies on aging.
The partnership enables TCARE's fast growing family caregiver support program to leverage CareSignal's COVID Suite of three accessible COVID-19 programs for its combined 20 million members in 22 states.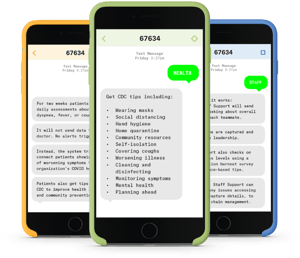 COVID Companion is a text-based platform that shares tailored information about local public health resources and recommendations from the U.S. Centers for Disease Control and Prevention. To subscribe, any patient or community member can text "HEALTH" to 67634. COVID Companion is available in English and Spanish and will ask basic questions to link members with COVID-19 information specific to their needs. Members over the age of 60 or with chronic disease are directed to the U.S. Centers for Disease Control and Prevention information specifically for high-risk populations.

COVID Connect is a patient-facing text-based platform that enables patients to self-monitor symptoms at home and if symptoms worsen, automatically connect patients to the U.S. Centers for Disease Control and Prevention COVID-19 hotline.

COVID Staff Support is a provider-facing text-based platform to help healthcare professionals self-monitor symptoms of COVID-19, report signs of burnout and receive mental health resources, and report PPE access issues.
"CareSignal and TCARE prioritize clinical outcomes and client ROI, particularly during this unique and challenging time" said Ali Ahmadi, founder and CEO of TCARE. "CareSignal has created an impressive system with high patient/member engagement rates. Our mutual companies also share a passion for deep clinical evidence, and between the two of us, our technologies have over three-dozen positive-outcome peer-reviewed journal articles. For these reasons, I am proud to bring the COVID Suite, at no cost, to all of our industry partners and their more-than 20 million constituents."

"This partnership stems from a recognition that healthcare organizations, and the populations they serve, need to support both patients and their caregivers from all angles," said Blake Marggraff, founder and CEO of CareSignal. "I'm excited to work with TCARE, one of the most progressive, value-oriented healthcare technology companies, to bring the COVID Suite to communities, patients, and frontline staff across the country."
The COVID Suite is an extension of CareSignal's commitment to using scalable technology that enables patients to report symptoms and receive proactive care to improve health outcomes.
To learn more about COVID Suite, visit https://www.caresignal.health/covid-suite
ABOUT TCARE:
TCARE is an evidence-based, CMS-approved and federally accredited family caregiver support program. TCARE's cloud-based technology enables aging-in-place by identifying the right resources, at the right times, and at the right place for family caregivers thus delaying/preventing nursing home placement and reducing LTC claims. TCARE's clients include State Governments, Medicaid Payers, Life/LTC Carriers and Area Agencies on Aging. TCARE's unique clinical outcomes have led its system to become legislatively mandated in State Medicaid programs. To learn more, visit: https://www.tailoredcare.com/

ABOUT CARESIGNAL:
CareSignal is a scalable remote patient monitoring platform that improves payer and provider performance in value-based care by engaging and identifying rising-risk patients. Care teams receive real- time alerts enabling real-time prioritization and outreach, and patients respond to evidence-based questions via text messages or phone calls. CareSignal amplifies care teams, improving clinical outcomes and delivering financial returns for over two dozen conditions such as CHF, COPD, diabetes, depression, and more. For more information, visit caresignal.health. To get COVID Suite free for your organization, visit https://www.caresignal.health/covid-suite