Murray County Medical Center and CareSignal Bring New COVID-19 Text Messaging Programs to the Community
April 24, 2020 at 8:39 AM
Slayton, MN — April 24, 2020 — Murray County Medical Center has partnered with CareSignal, a remote patient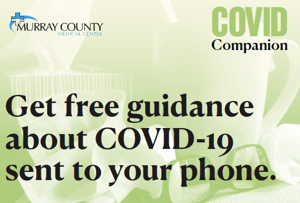 monitoring company, to quickly provide accurate COVID-19 information to our community using the two text-based programs COVID Companion and COVID Connect.

COVID Companion is a free text messaging service that shares information about local public health resources and recommendations from the U.S. Centers for Disease Control and Prevention. To subscribe, text "MURRAY" to 67634.
COVID Connect is a patient-facing text-based platform that enables patients to self-monitor symptoms at home and if symptoms worsen, automatically connect patients to the Murray County Medical Center COVID-19 hotline. To subscribe, text "MURRAY Connect" to 67634.
"COVID Companion is a great option to help guide you through this COVID crisis. It sends daily reminders to help you stay healthy and gives links to resources for you. Murray County Medical Center is always here for additional concerns or questions you may have. Give us a call if you have additional concerns at 507-836-6111," said Monica Van Otterloo, RN, BSN, Murray County Medical Center.
To subscribe to COVID Companion any patient or community member can text "MURRAY" to 67634. No download, login or computer is required. COVID Companion is available in English and Spanish and will ask basic questions to link members with COVID-19 information specific to their needs. Members will receive Centers for Disease Control-based prevention tips and recommendations on what to do if they have COVID-19 symptoms, as well as ways to connect with public health resources in their local area. Members over the age of 60 or with chronic disease are directed to the Centers for Disease Control information specifically for high-risk populations.
The programs illustrate Murray County Medical Center and CareSignal's commitment to providing accessible resources to improve patient health.
To learn more about Murray County Medical Center COVID Companion, visit https://www.caresignal.health/covid/murray-county
ABOUT MURRAY COUNTY MEDICAL CENTER:
We are a 25-bed critical access hospital with 3 ICU beds, 24/7 ER coverage, Rural health clinic, In-house CT, MRI and Mammography. Comprehensive services including: outreach, outpatient, clinic, surgical and ancillary. We are committed to providing compassionate and exceptional health care for our patients here in Murray County and the surrounding communities. Murray County Medical Center is a county-owned, nonprofit health care system located in Slayton, MN that is managed by Sanford Health, a large regional nonprofit health care organization based in Sioux Falls, SD. Our number one asset is our people, we have highly skilled and caring providers, nurses, medical staff, administration and facility services. It is with our talented medical staff, modern facility and leading technology that we provide an extensive variety of patient services to ensure families and individuals in this community receive the best personalized care and health services, close to home. https://www.murraycountymed.org/

ABOUT CARESIGNAL:
CareSignal is a scalable remote patient monitoring platform that improves payer and provider performance in value-based care by engaging and identifying rising-risk patients. Care teams receive real- time alerts enabling real-time prioritization and outreach, and patients respond to evidence-based questions via text messages or phone calls. CareSignal amplifies care teams, improving clinical outcomes and delivering financial returns for over two dozen conditions such as heart failure, COPD, diabetes, depression, and more. For more information, visit caresignal.health. To get COVID Companion free for your organization, visit covidcompanion.com.